BuzzFeed Staff
Actors Nathan Fillion, writer/director Joss Whedon, and Summer Glau at the Firefly 10 Year Anniversary Reunion during San Diego Comic-Con on July 13, 2012. Image by Alexandra Wyman / Getty Images
Practically from the first moment that Rob Thomas and Kristen Bell announcedtheir Kickstarter campaign for a Veronica Mars movie — and certainly after the project amassed over $2.5 million in 24 hours — people began wondering if the same could be done for another gone-before-its-time TV series.Joss Whedon was one of them.
"Yes, obviously, the next thing will be that we will try to Kickstart a Dollhousereunion," Whedon told BuzzFeed.
He's joking, folks. Whedon — a professed Veronica Mars super-fan — says he knew almost instantly that now that fan-based funding had been proven viable at a feature-film scale, the constant drumbeat of "when will there be another Fireflymovie?" would only get louder. Whedon is something of a pioneer in the realm of reviving a canceled series into a feature film: Three years after Fox unceremoniously axed Firefly in 2002, Whedon convinced Universal Pictures to bankroll a feature-film version that served as his feature-directing debut. Alas,Serenity grossed a meager $38.9 million worldwide, scuttling any lasting hope that a major studio would step up to do it again. But if Fox or Universal signed off on distributing a fan-funded Firefly film…? Just the idea of it is enough to get Browncoats everywhere scratching at their wallets.
Initially, however, Whedon declined to talk about what the implications ofVeronica Mars' success would mean for Firefly. But then, he says, "I realized if I don't, it's the only thing I'm ever going to be asked ever by anyone."
So here's what he had to say:


Continue Reading
Don't forget to Like, +1 and Tweet!
We grab a moment with local comic book writer Sebastian Piccione who talks to us about his works, his likes and his activities in general.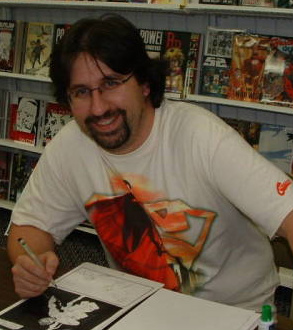 Places you can find Sebastian:
To see more of our event videos click here.
Free background music provided by JewelBeat.com
Don't forget to Like, +1 and Tweet!