Once again the Oscars have come and gone leaving in it's wake a plethora of popular culture topics to discuss. With Ellen DeGeneres at the helm there was no shortage of quirky moments such as the "Selfie Seen Around The World" (seen below), which Ellen claimed broke Twitter. "We crashed and broke Twitter," she said, implying that the service was having technical issues as a result of said Selfie.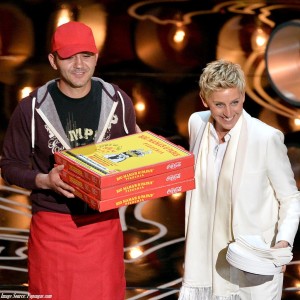 Ellen then decided that the members of the audience were looking a bit peckish so she did what any good host would do – she ordered a pizza from Big Mama's and Papa's Pizzeria and had the delivery man not only come out on stage but go out into the audience to serve the likes of Jared Leto, Meryl Streep, Chewitel Ejiofor, Brad Pitt, Angelina Jolie and Julia Roberts – just to name a few.
Ellen wasn't the only one creating memorable moments in this years Oscars. There was a tribute to The Wizard of Oz, U2's performance of Ordinary Love from Mandela and an incredible acceptance speech by best supporting Actress winner, Lupita Nyong'o.
This years Oscars were not without it's share of missteps either. Ranging from a teleprompter flub by Charlize Theron (Is that me?), to Kim Novak's strange presentation speech to what had to be the worst mistake of the night – John Travolta introducing Idina Menzel as Adele Dazeem, a name that quickly spawned a parody account on twitter.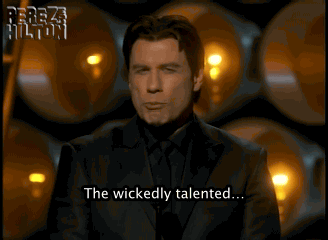 As far as the awards go Gravity won the night with a whopping seven of the ten categories it was nominated for, which should come as no surprise to most, although I personally did not think that much of the film. What it failed to walk away with were the Best Actor or actress in a leading role, Best Actor or Actress in a Supporting Role, or Best Picture.
I am however happy to report that Frozen gets Disney its first ever Oscar win in the Animated Feature Film category, and Best Original Song category for for "Let it Go," the hit single written by Robert Lopez and Kristen Anderson-Lopez adding Robert Lopez to the small family of artist to have achieved an EGOT – Emmy, Grammy Oscar and Tony.
Below you will find a wrap up of all the winners in last nights awards ceremony. Let us know if you agree or disagree with the chosen winners, and if you disagree tell us your picks in the comments below:

2014 Oscar Winners

Loading ...

Loading ...

Loading ...

Loading ...

Loading ...

Loading ...

Loading ...

Loading ...

Loading ...

Loading ...

Loading ...

Loading ...

Loading ...

Loading ...

Loading ...

Loading ...

Loading ...

Loading ...
Writing (Original Screenplay) Her, Written by Spike Jonze
Agree (0%, 0 Votes)
Disagree (0%, 0 Votes)
Total Voters: 0

Loading ...

Loading ...

Loading ...
Sorry, there are no polls available at the moment.
Don't forget to Like, +1 and Tweet!