It was announced yesterday that the second installment of the man of Steel franchise officially had a name – "Batman v Superman: Dawn of Justice."
But wait a second – Batman v Superman? This is the second Man Of Steel movie, and not only is Man Of Steel not in the title, but the person that the title references (ie Superman) does not even get top billing? What gives here? This is the second installment of the Superman franchise and he is getting second billing in his own movie!
When the announcement was made that there was going to be a Batman vs Superman movie, I was just as excited as everyone else. However I was under the impression that this would be a Super hero team up Movie. OK the addition of Batman is exciting – isn't it? The More I thought about it, the more problematic it became. We have just met Superman in this new universe and there is no mention of Batman, let alone any other heroes. So how is this going to work?
Then came the announcement that they will be drawing heavily from Frank Millers Batman vs Superman and the fan-boy in me went into spastic fits of joy. I LOVE FRANK MILLER'S BATMAN VS SUPERMAN STORY! My euphoria was however short lived. We're back to how is this going to work?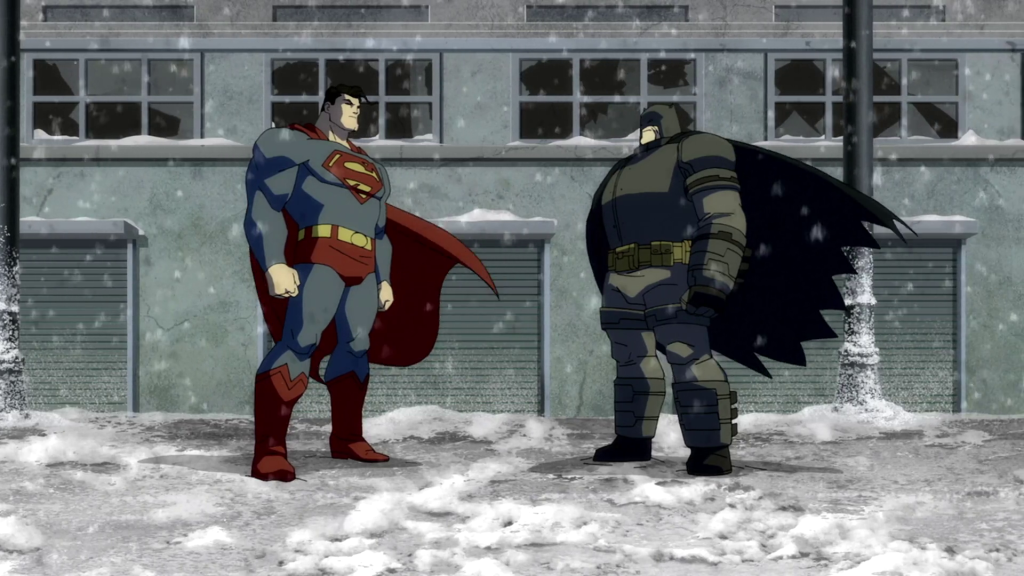 In Miller's story were are dealing with a post Justice League world. The heroes have come together, forged relationships and have disbanded. Supes and the Bat have a shared history, which brings some fantastic gravitas to the story that makes it so wonderful. In the movie universe, we've only just met Kal El and don't know of any other heroes. Also, as the title suggests this is going to lead into the Justice League forming – So how does an older, tired and seasoned Batman fit into this world?
As if these issues were not enough, we've heard confirmed news that Wonder Woman and Lex Luthor would be in the movie. Now in addition to Supes you have three more main characters to develop. Then there are rumors of The Flash, Green Lantern, and Martian Manhunter showing up – How the hell do you introduce all of these characters and develop them in such away that the audience will give a crap about any of them? (Source – DC Cinematic Universe Wiki)
Having the characters show up in the movie to be seen simply isn't enough. They rebooted the Superman franchise and met with significant success because we went on a journey with The Last Son of Krypton. However, in their haste to catch up to what is being done in the Marvel Cinematic Universe (MCU) they are pushing too many characters into the mix too soon in order to segue into a Justice League team up movie. There will be little to no time for character development for three new characters, let alone the possibilities of adding others.
If all this isn't enough to make you grimace, lets take a look at this from a different point of view: What the hell is wrong with Warner Brothers???? Super hero franchises are big money right now – and I credit Christopher Nolan with paving the way, starting with Batman Begins. Let's take a look at something the major movie studious are supposed to understand:
Cold Hard Cash:
| Yr Released | Title | World Wide Gross |
| --- | --- | --- |
| 2005 | Batman Begins | $374,218,673 |
| 2008 | Iron Man | $585,174,222 |
| 2008 | The Incredible Hulk | $263,427,551 |
| 2008 | The Dark Knight | $1,004,558,444 |
| 2009 | X-men Origins: Wolverine | $373,062,864 |
| 2010 | Iron Man 2 | $623,933,331 |
| 2011 | Thor | $449,326,618 |
| 2011 | X-Men: Fist Class | $353,624,124 |
| 2011 | Captain America: First Avenger | $370,569,774 |
| 2012 | The Avengers | $1,518,594,910 |
| 2012 | The Amazing Spider-Man | $752,216,557 |
| 2012 | The Dark Knight Rises | $1,084,439,099 |
| 2013 | Iron Man 3 | $1,215,439,994 |
| 2013 | Man Of Steel | $668,045,518 |
| 2013 | The Wolverine | $414,828,246 |
| 2013 | Thor: The Dark World | $644,783,140 |
| 2014 | Captain America: Winter Soldier | $704,051,967* |
| 2014 | The Amazing Spider-Man 2 | $636,048,230* |
(Sources – Wikipedia & Box Office Mojo)
*– Still in Theaters
This makes for a WHOPPING total of – $12,036,343,262. (That's twelve BILLION for the numerically challenged.)
That represents an Average / Film of  $668,685,736.78 (Greater than half a billion dollars per film.)
More importantly, this represents an Average / Year  of  $1,337,371,473.56 (That's $1.3 billion, folks.)
So the formula is laid out for you, audiences are chomping at the bit, you have the momentum of the trail that Nolan's Batman franchise, the MCU and The Man of Steel have blazed for you – WHY WOULD YOU RUSH THE JUSTICE LEAGUE FILM???
There are a slew of major characters that can be developed into standalone franchises, which the last decade has shown can be profitable when treated properly.
Don't forget to Like, +1 and Tweet!
Pages:
1
2
3