WELCOME to our second installment of our latest endeavor – COSPLAY MONDAY! If you are not familiar with Cosplay you can go here to read up on the subject.
This weeks feature is also a Florida gal hailing this time from Jacksonville, Fl (AKA South Georgia). We present to you –
Brema Ebbing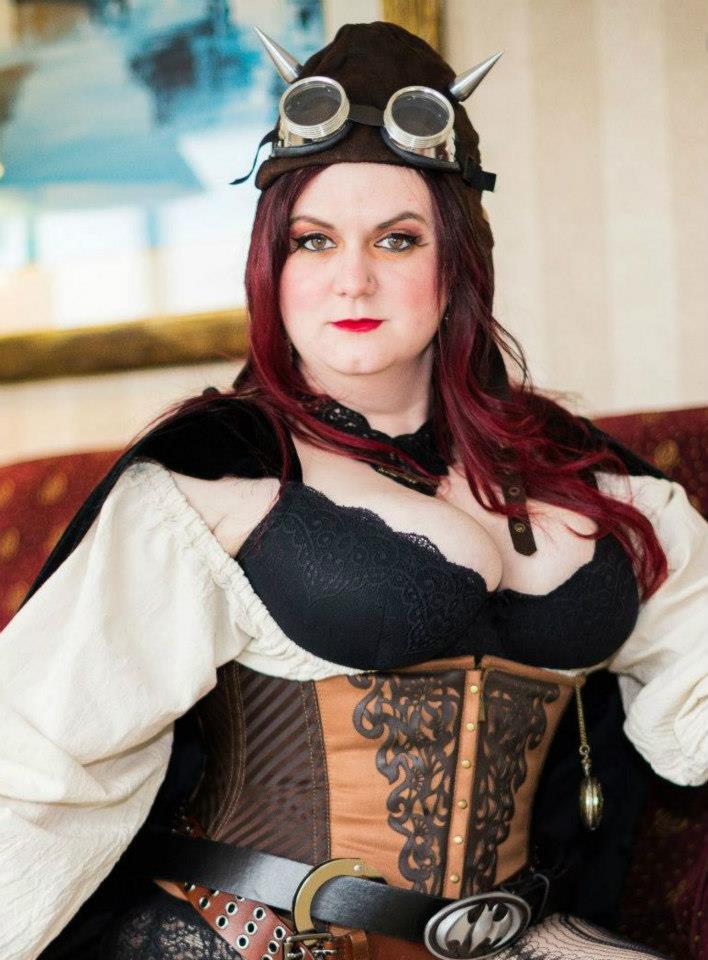 About Brema
I've always been a dork and loved Halloween but I didn't start cosplaying until 2010 when I started to work for Candy Keane at Three Muses. When I first started out in costume design, I worked on theater and film productions like "Kill Bill" and "Debbie Does Dallas: The Musical" where I was always in the background. It was actually really hard for me to feel comfortable dressing up at first because I am plus size.
One day, Candy sat me down (at a Waffle House no less) and asked me why I insist on being unsexy. The truth is chubby girls are told to cover up and that's what I did.  I never felt truly comfortable in my skin until I modeled the Plus Size Wonder Woman for Three Muses. It was great getting so much positive feedback! I still often feel self conscious when I go out (especially when people ask me to get out of the picture) but I try not to let it stop me.  This year I've been to All-Con, Swampcon, and Spooky Empire's Mayhem. Next on the list is Florida Supercon and of course Dragon*Con!
My favorite cosplay is actually the Black Panther costumes I made for my friend Verne and his family. I made them Black Panther, Wakabi, 2 Dogs of War, White Wolf, Female Black Panther and Storm. The masks were made by 4th wall Design and the Bodysuit by Flex Design. It was a lot of work but when I saw them all dressed it was an amazing feeling! I'm joining them as Ohyaku at Dragon Con. I can not wait!
My most challenging cosplay would probably be C3PO. I love Star Wars and I wanted a costume that would make sense with Candy's Chewbacca cosplay. I had done Han Solo before but I wanted to do something more challenging so I went with the guy completely covered in metal. That costume took forever trying to figure out how to make it and then constructing everything. I ended up using a bunch of gold styrene scraps for the corset and spending 4 hours gluing the wires down for the middle. A huge pain in the butt but a lot of fun.
Her Favorites:
Games Top 5
1-Legend of Zelda:Ocarina of Time
2-Final Fantasy V
3-Legend of Zelda:Twilight Princess
4-Donkey Kong Country
5-Mario Party 7
Movies Top 5
1-Caddyshack
2-Star Wars 4,5,6
3-Beetlejuice
4-Ghostbusters
5-Big Lebowski
Books Top 5
1-Odds and Gods by Tom Holt
2-Hitchhiker's Guide to The Galaxy by Douglas Adams
3-Still Life with Woodpecker by Tom Robbins
4-Giants of the Frost by Kim Wilkins
5-The Thief Lord by Cornelia Funke
TV Top 5
1-Mystery Science Theater 3000
2-Always Sunny in Philadelphia
3-Mysteries at The Museum
4-Monster High
5-Battlestar Galacticas
Where you can find Brema:
Want more? You can find Callie Cosplay on Facebook, Twitter, or on her own personal Tumblr Page.
Cosplays:
If you are interested in purchasing any of Brema's works, you can find her on Etsy 
Don't forget to Like, +1 and Tweet!