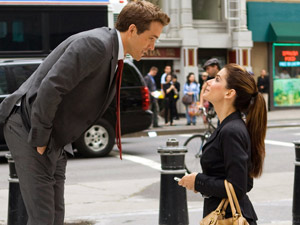 "Life imitates Art far more than Art imitates Life" – Oscar Wilde: The Decay Of Lying (1889).
It is a phrase that we've heard many times (in part anyway), but I am always amazed when I find an example of it that hits close to home. It comes as a greater surprise when the example comes from something that I would not exactly consider meaningful. My latest run in with this feeling is one such example.
I love movies. Not all movies are what I would consider good, but I believe most movies have something good within them. I recently watched a movie starring Ryan Reynolds and Sandra Bullock called "The Proposal." There did not seem to be anything special about this movie, but as I am a fan of the actors in it and I had some time to kill so I gave it a shot. It is what one would call a typically formulaic romantic comedy. The two lead characters initially hate each other but through a series of wacky events find that they not only misunderstood the other person, but actually love them. It's a trope we've seen time and time again, and was used in a rather unimaginative way. Then about three quarters of the way through the movie there is the following exchange that hit me out of nowhere:
MARGARET: I forgot, OK?
ANDREW: You forgot what?
MARGARET: I forgot what it was like to have a family! I've been on my own since I was 16 and I forgot what it felt like to have people love you, and make you breakfast and say, "Hey! We'd love to come down for the holidays." And I say, "Well, why don't we come up and see you instead?"
The scene is intended to be the moment that the unlikeable character is humanized and becomes someone the audience can sympathize with – but for me, it ripped a page right out of my life. I have been on my own for a very long time, but unlike Sandra Bullock's character in the film it's not because my family died – were are simply estranged. I almost think it unfair to use the words "simply" and "estranged" back to back as estrangement is never something that comes simply – but that's a topic for another time.
What I allowed to happen in my case was that I took the estrangement of my wildly dysfunctional immediate family and inadvertently applied it to my extended family as well. And they were the ones who loved me, and made me breakfast, and inquired as to when I was going to come see them. It was a terrible thing I did to them, but it was also a terrible thing to have done to myself. In my life I created surrogate families with the friends I surrounded myself with – and don't get me wrong, I LOVE my friends and I do consider them to be a family. But there is something about blood relations that makes one feel that you must innately put up with them. Whereas friendships, well – they grow apart. Try as one may to keep it from happening, life just has a way of taking us in different directions.
I recently had occasion to be exposed to that part of my family again, albeit not under the greatest of circumstances. And even after years apart, after the neglect I showed them, even in the midst of this terrible situation – they were still my family. And the words of Margaret's character in The Proposal succinctly and completely summed up my situation – I forgot. I forgot what it was like to have a family. But more than that, I fear I may have forgotten what it is like to be PART of a family. The moments of exposure come and I recognize that I miss the feeling that family provides – but then the moments pass and I go right back to being my insular self. Not meaning to be estranged, but being so any way. I see this manner of being taking its toll on my surrogate families as well and I have to wonder, have I truly forgotten what it is like to be part of something? Have I lost the ability to be part of a family? Did I simply forget? Or did I make a choice and now I am reaping the fruits of those decisions?
Then I remember that it was an unremarkable piece of writing in a film that was mediocre at best, that made me think of something that really reaches into the core of who I am.
I love movies, and that Life Imitates Art. And that something so simple can bring to mind something so deep and complex.
Don't forget to Like, +1 and Tweet!