Anyone who who has spent any time on our twitter account or follows us on Get Glue (something I just recently started actively using and am still adjusting to) knows that I have been completely bowled over the Aaron Sorkin's latest television masterpiece "The Newsroom." If you know me a little better you'd know that I am huge fan of just about everything Sorkin has been a part of, with the exception of The Social Network – I could just care less about how Facebook came to be. The writing on The Newsroom wonderful, the acting is wonderful and I recently openly declared my love for a fictional character as a result.
There is a very real possibility that I have fallen in love with fictional character MacKenzie McHale #TheNewsroom pic.twitter.com/7y5RLaujwC

— The M Cluster (@TheMCluster) September 21, 2013
But this post is not about my love for Mackenzie McHale (or any other fictional characters I may have been in love with – looking at you C.J. Craig), or Aaron Sorkin, or really even about The Newsroom, which I am just catching up on because I no longer have cable television because Brighthouse Networks it a poor excuse for a cable company – but that is another story, forgive the digression. No this post is about what I feel is an injustice that is being done to one of the actresses in this show – Olivia Munn.

Olivia Munn is not a new name to me. However like many other nerds she first came to my attention as the Hot chick on "Attack of the Show" on the G4 network. On the show, she was in a segment called "In Your Pants," a relationship advice column in which she answered questions from viewers. It was clearly a formula for success putting an extremely attractive woman in font of a bunch of socially awkward stereotypes in order to garner ratings. That may have sounded like a dig, but it wasn't. I think Olivia Munn is one of the most beautiful women I've ever seen, and the first image to come to mind when I hear her name is this: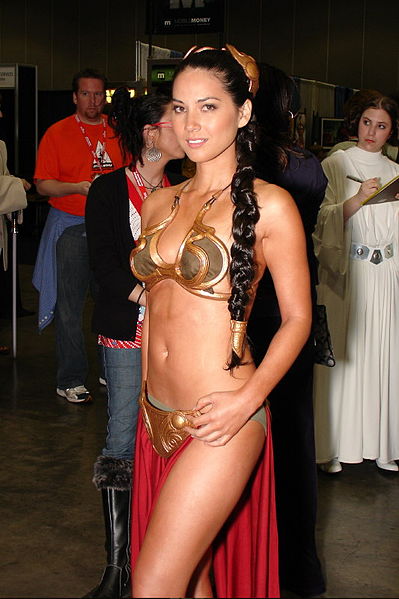 And this is what prompted me to write this post. Because having binge watched the first two seasons of "The Newsroom" – the image that comes to mind is no longer the sexy "Slave Leia" clad Munn, but the complex, extremely intelligent, quirky and yes still extremely attractive Sloan Sabbith.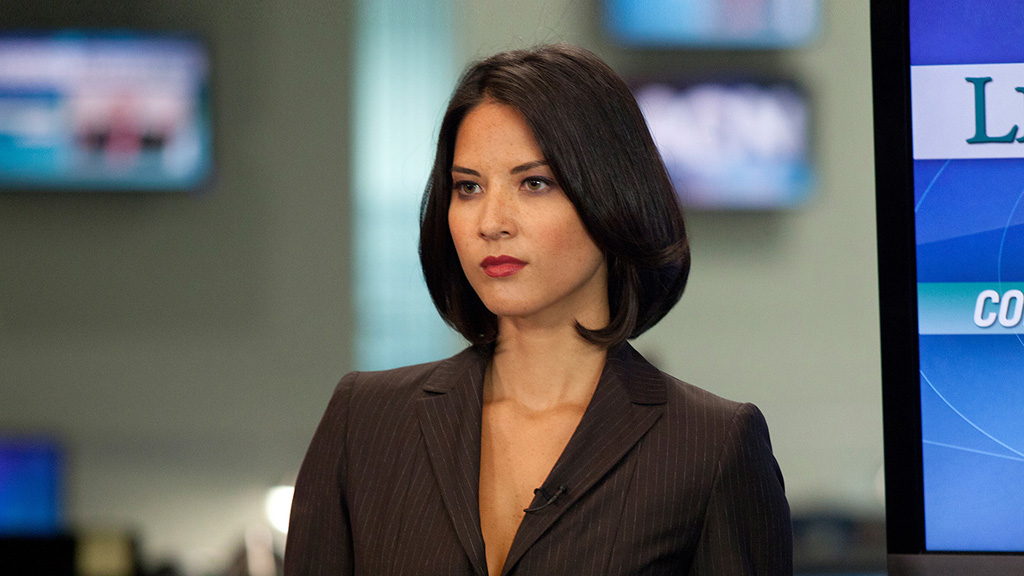 You may be asking yourselves "What injustice are you talking about?" The answer to that is simple – it's the fact that people put entirely too much emphasis on her boobs and not enough on her brain. You may be inclined to think that I am confusing Munn with the character she plays because, lets face it – the majority of the attention she gets is about her looks. A quick Google search and here are the type of results you will likely see:
It's undeniable that she is a beautiful woman, but here are the things that they don't focus on:
Is Olivia Munn Sloan Sabbith? No. I recognize that Sloan is an exceptionally well written character created in the mind of Aaron Sorkin. That said, she is not a walking set of tits and ass either, although again hers are irrefutably spectacular.  She is a well educated, talented and cultured individual who has proven that with the right material she is a force to be reckoned with on the screen.
Thank you Aaron Sorkin for writing another intelligent female character for viewers to look to and Thank YOU Olivia Munn for so spectacularly bringing her to life.
Now if someone could point me in the direction of a TARDIS so I can travel to the future to binge watch more episodes, that would be great.
Don't forget to Like, +1 and Tweet!