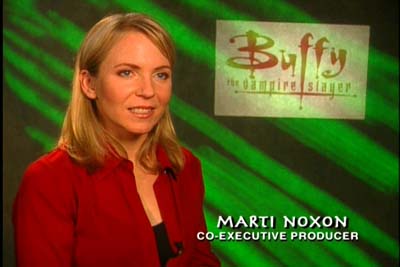 Dear Ms Noxon,
I am currently reading Joss Whedon's biography and I read the following excerpt, which made me want to reach out to you.
"Fans knew that Joss was spending much of his time developing his new Fox series, so they laid much of the blame for the failings of the season at the feet of Marti Noxon. "There are websites devoted to how I ruined Buffy in season six," she says. She had been a strong advocate of darker story-lines— including the Spike/ Buffy relationship— and she had become more involved in the production aspects of the series that Joss no longer had time for." (Pascale, Amy (2014-08-01). Joss Whedon: The Biography (p. 192). Chicago Review Press. Kindle Edition.)
So there is something I would like to address about season six of the show: I LOVE THIS SEASON.
Make no mistake I loved the show before then, but this season really solidified it for me. The fact the the tone of the show was darker, that the Slayer made poor decisions, that – in the words of Buffy's alter ego herself, Sarah Michelle Gellar – "she felt that Buffy was losing her "hero-ness" and losing her way. "It wasn't who Buffy was, or why people loved her." (Pascale, Amy (2014-08-01). Joss Whedon: The Biography (p. 192). Chicago Review Press. Kindle Edition.)
Everything she said was true, and it was killing me that you put this beloved character through such a horedous time. This is why I loved this season, BECAUSE it was killing me. It showed me that I really cared about this character. It showed me I was really invested in this story. It showed me that this show was supurbly crafted and when she finally rose above the darkness it made her that much more of an inspiration. It's themes tested. strained and in some instances broke the notions of friendship and one's chosen family. Buffy was real – that is to say as real a vampire slaying/loving teen aged girl with superpowers could be.
My point is you reached me, you reached us – the audience, in perhaps a way that we were unprepared for. Everyone who complained, or was concerned or felt that you were "ruining Buffy" – they cared. And they cared because the show really reached them. They complained because they were affected. They complained because they loved her and the show.
Even today, 11 years after Buffy last aired, the show remains a big part of my life. So I guess what I really wanted to say to you is Thank You. I hope you wear the backlash that was received from this season, not as a blemish, but as a badge of honor. Again, thank you from the bottom of my heart.
A devoted fan,
Jose Santiago
Don't forget to Like, +1 and Tweet!