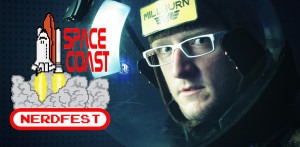 On May 23rd I got to go to the to the Second Annual Space Coast Nerd Fest. I missed the first year due to my schedule, but this year did not disappoint! It was a great time reconnecting with some old friends and making new ones!
There were attendees from all corners of nerd-dom – from the casual costume to the most intricate cosplays, From bobble heads to machine heads, from pirates to renaissance jousters, from artists to actors – you could find it all at one place, AND IT'S ON THE SPACE COAST!!! In most of the conversations I had with the people I met the most common thing I hared from people was "It's so great to have something like this so close to home." The highlights for this attendee were The Stay Puft Marshmallow Man, Dare Devil, The BEST BATMAN EVER, Harley Quinn (as always), FINALLY meeting Jennifer Sangalang from Florida Today (the space coasts very own nerd writer extraordinaire!), and getting to shake Micheal Winsolow's hand and telling him how much I've enjoyed his work! (See the photo gallery below.)
For those of us residing on the Space Coast we generally have had to rely on MegaCon in Orlando to get our nerdy convention fix. For the Die Hard convention enthusiasts we have had to make the trek to Atlanta, Ga to experience Dragon*Con. For the elite few who have the means and the availability there is always the 2500 mile journey to the Mecca of nerd conventions – San Diego Comic Con!
But this is no longer the case – The Space Coast now has it's very own convention to attend – and the future seems bright, as in my opinion the event has already out grown it's venue in only it's second year! If you missed yesterdays activities, you still have time! The event is going on today as well from noon until 5 pm. So if you're looking for some fun, hop in the car and head to the Melbourne Auditorium and GET YOUR NERD ON!!!!
Don't forget to Like, +1 and Tweet!