NOUN
[MASS NOUN] 1. A phenomenon in which a luminous electrical discharge appears on a ship or aircraft during a storm.
2. A 1985 Joel Schumacher film surrounding a group of friends just out of college, and their struggle with adulthood.
______________________________________________________________________
In 1985, 12 (going on 13) year old me did not know either of the definitions listed above. It was a pretty rough time for me. I was living with an abusive parent, I had just come off of failing 7th grade at a private school in at attempt to punish my parents for their divorce and for moving me to the private school in the first place, and I was being left behind by all of my friends. (That last one is important with respect to how I feel about this movie, so pay attention.) So what is a tween to do for an escape? MOVIES!
1985 was a not so great year for me, but was a truly great year for movies. This is the year that gave us Back to the Future, The Goonies, Legend, Clue, Weird Science, The Jewel of the Nile, Cocoon, Desperately Seeking Susan, Mad Max: Beyond Thunderdome, Real Genius, Better Off Dead, The Breakfast Club and of course the reason for this post - St. Elmo's Fire. While many of these films that I cherish allowed me a temporary escape from my reality it was the last two that really had a huge impact on me. Both of these movies gave me hope.  "Both?" you might ask - "they are very different stories!" This is true - but they came at a pretty dark time in my childhood and made me believe that I might have something to look forward to.

Continue Reading
Don't forget to Like, +1 and Tweet!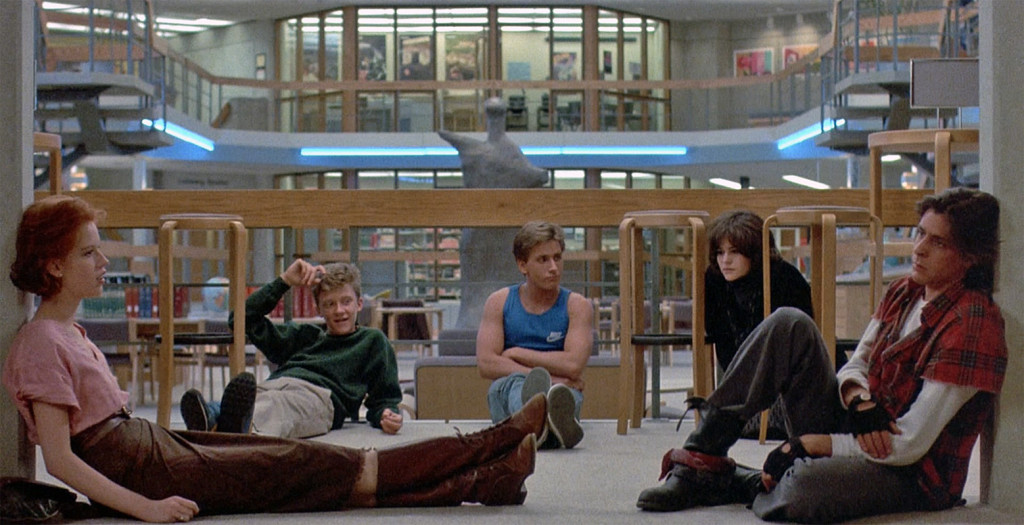 Saturday, March 24,1984.
Shermer High School,
Shermer, Illinois, 60062.
Dear Mr. Vernon,
We accept the fact that we had to sacrifice a whole Saturday in detention for whatever it was we did wrong. What we did *was* wrong. But we think you're crazy to make us write an essay telling you who we think we are. What do you care? You see us as you want to see us – in the simplest terms, in the most convenient definitions. You see us as a brain, an athlete, a basket case, a princess and a criminal. Correct? That's the way we saw each other at 7:00 this morning. We were brainwashed.
But what we found out is that each one of us is a brain, an athlete, a basket case, a princess and a criminal. Does that answer your question?...
Sincerely yours,
The Breakfast Club.
This is the opening, and with a minor change the closing of the 1985 John Hughes teen movie classic,
The Breakfast Club
- one of the of, if not THE seminal movie experience of my adolescent years. In large part this film was responsible for changing my perception of who I thought I was and in many ways who I ended up being.

Continue Reading
Don't forget to Like, +1 and Tweet!