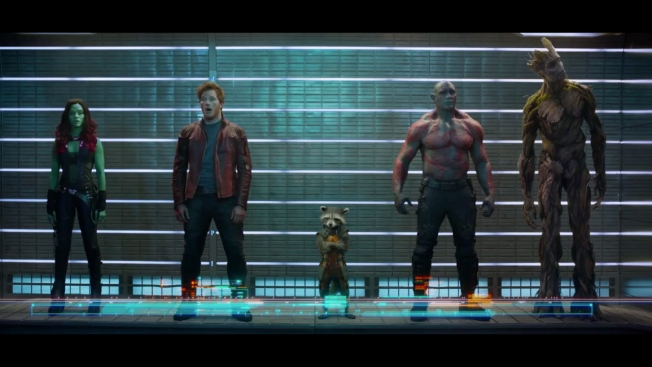 Slider, Brandon Carmichael and Special Guest Jerry Fuqua II discuss the summer Blockbuster (and officially the highest grossing film of 2014) Guardians of the Galaxy along with the larger Marvel Cinematic Universe live at Famous Faces & Funnies.
Don't forget to Like, +1 and Tweet!
GUARDIANS UPDATE:
After 30 days in the theater the Worldwide Grosses are at   $507,442,000, making it the top grossing film of 2014
So were 7 days in and one thing about Guardians of the Galaxy is clear – audiences have a love affair with Groot! But a franchise can not live on Groot alone (or can it)? The Guardians are made up of four characters other than Groot! You have Peter Quill, Gamora, Drax the Destroyer, and Rocket – A talking machine gun toting raccoon!!! Don't get me wrong – I loved Groot (see images below – including the t-shirt I want to make), but let not forget the rest of the characters. That being said – I want to know – Groot aside, who is you next favorite Guardian?

Continue Reading
Don't forget to Like, +1 and Tweet!
"From Marvel, the studio that brought you the global blockbuster franchises of Iron Man, Thor, Captain America and The Avengers, comes a new team—the Guardians of the Galaxy. An action-packed, epic space adventure, Marvel's "Guardians of the Galaxy" expands the Marvel Cinematic Universe into the cosmos, where brash adventurer Peter Quill finds himself the object of an unrelenting bounty hunt after stealing a mysterious orb coveted by Ronan, a powerful villain with ambitions that threaten the entire universe. To evade the ever-persistent Ronan, Quill is forced into an uneasy truce with a quartet of disparate misfits—Rocket, a gun-toting raccoon, Groot, a tree-like humanoid, the deadly and enigmatic Gamora and the revenge-driven Drax the Destroyer. But when Quill discovers the true power of the orb and the menace it poses to the cosmos, he must do his best to rally his ragtag rivals for a last, desperate stand—with the galaxy's fate in the balance."
This is the blurb Marvel is using to lure people to their latest chapter in Phase 2 of the Marvel Cinematic Universe (MCU). But just who are the Guardians? Join us on August 10th, as Brandon, Dante and I explore the history of these characters with the help of Rick Shea, Fawad Siddiqui, and Jerry Fuqua II!
Join Us!
If you are in the area and would like to join us live you can! We'll be at:
Famous Faces and Funnies/Get Your Fun On
3030 West New Haven Ave
Melbourne, FL
For a map & directions Click Here!
Event Pages
Don't forget to Like, +1 and Tweet!