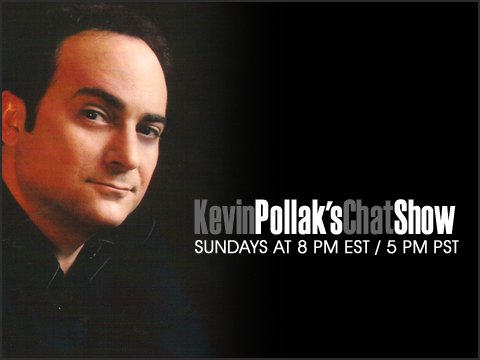 Thanks to Bonnie Burton, whom I adore I have seen the video interview below of Felicia Day, whom I also adore! As if that were not enough – the interviewer is none other than Kevin Pollak whom once again – I ADORE (in the manliest way one man can adore another man). So to recap – One of my favorite people told me about another of my favorite people being interviewed by yet another of my favorite people…. but that is not even the takeaway here…
KEVIN POLLAK HAS A LONG FORM INTERVIEW SHOW???
How the hell did I not know about this? I've enjoyed everything Pollak ever since the first time I saw him impersonating Shatner as Captain James Tiberius Kirk. As YouTube commentator Kevin Ramsey so aptly states:

I've always felt that he has been under used as an actor. I am extremely glad to find out about this and am looking forward to seeing more. And LOOK at some of the people he's lined up! Nathan Fillion, Seth Mcfarlane, Garfunkle and Oats, Adam Savage – this is like Nerdvana! If you enjoy good interviews and entertaining banter, you need to subscribe to his YouTube channel  NOW!
Don't forget to Like, +1 and Tweet!
Originally published at The L.A. Times
March 25, 2013 | 1:28 p.m.
Felicia Day, Wil Wheaton and the "TableTop" team over at Geek & Sundry are hoping that their zeal for board games is contagious.
Day's multimedia company and YouTube channel Geek & Sundry have dubbed Saturday (March 30) International TableTop Day, teaming up with game stores and major publishers, including Asmodee Editions, Days of Wonder, Indie Boards & Cards, Mayfair Games and Wizards of the Coast, to host the event — a sort of worldwide gaming open house. People interested in trying new games or meeting other gamers can sign up at TableTopDay.com to attend free events at game shops or to host their own gaming event.
In the meantime, the Geek & Sundry team have provided Hero Complex readers with its top 10 board games list — five games for players coming from popular classic games, and five games for players who are already familiar with modern games. Click through the gallery above for a peek at some games you might not know about.
TableTop Day comes after the success of the "TableTop" Web series, in which Wheaton — of "Star Trek: The Next Generation" and "The Big Bang Theory" fame — and a table of celebrity guests play and teach board games, card games and dice games. The show, which draws hundreds of thousands of views each week, is produced by Geek & Sundry.
Hero Complex caught up with Felicia Day to talk about gaming, TableTop Day and what's next for Geek & Sundry.


Continue Reading
Don't forget to Like, +1 and Tweet!
Recently there has been a lot of discussion on the rise in geek culture and what that means, and today Felicia Day managed to put it into words in a way I do not believe anyone else has:
I've made no bones about it – Felicia Day inspired me to go down the path I am currently travelling, and what she had to say in this video is exactly why. one would not immediately classify me as an outsider – in fact I am kind of the opposite. I tend to fit in with almost any group or click with relative ease. However I have my own version of being an outsider – and that came in the form of Buffy the Vampire Slayer. As much as I loved that show, I kept my interest to myself for a long time for fear of what people would think. Even within the few people I did express my interest to I received some ribbing  (albeit all on good fun). I was actually afraid to let people know of my fandom. I was somewhat ashamed when I attended my first Comic Convention – MegaCon in Orlando, Fl.
Luckily I learned to overcome these concerns and learned to really embrace my geekdom. Now I realize it was something I never should have feared at all. The activities and communities that I have been able to be a part of have enriched my life immensely. The people I have met and the places I have gone because I embraced this part of myself have resulted in some of the most memorable and enjoyable moments in my life. I am glad for these experiences and memories – and it is because I adopted the attitude which Felicia day sums up so succinctly in the video above.
So this is basically a big thank you to the woman in the video above. Her message is simple and more powerful than you can know. Embrace your geekdom. Let your freak flag fly. Do what you love because you love it and don't let yourself be limited by what you fear people may think. You'll be happier for it.
Don't forget to Like, +1 and Tweet!