Click on the image to advance to the next one or check out all the photos here!

Loading ...
Don't forget to Like, +1 and Tweet!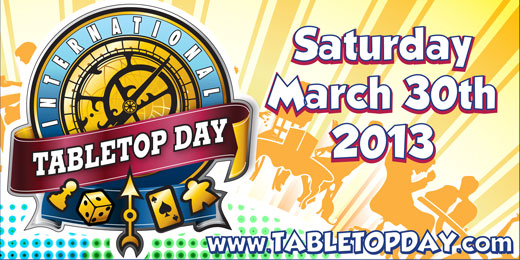 If you haven't heard by now – this coming Saturday, March 30th has been deemed International Table Top Day in celebration of the hit internet web series Table Top and the Geek & Sundry network. More than that it is a celebration of gaming and how it can bring people closer together. If you are near the Space Coast of Florida, YOU can com play with us at:
Famous Faces and Funnies/Get Your Fun On
3030 West New Haven Ave
West Melbourne, FL 32904
Phone: 321-327-7937

View Larger Map
We'll be playing Tabletop featured titles and they will be running special sales. This will be a family friendly event.They host a weekly game night attended by nearly 150 people so you know there will be plenty of space to join us. So come on down!
Some of the games on the agenda:
Pandemic                    Small World
Settlers of Catan       Zombie Dice
Get Bit!                         Tsuro
Ticket to Ride           Munchkin
Castle Panic               Gloom
Say Anything            Elder Sign
Dixit                             Wits & Wagers
Fluxx                            Carcassonne
Chupacabra               And many more!
And if that isn't enough to convince you – here are a few words from the gaming guru himself:
Don't forget to Like, +1 and Tweet!