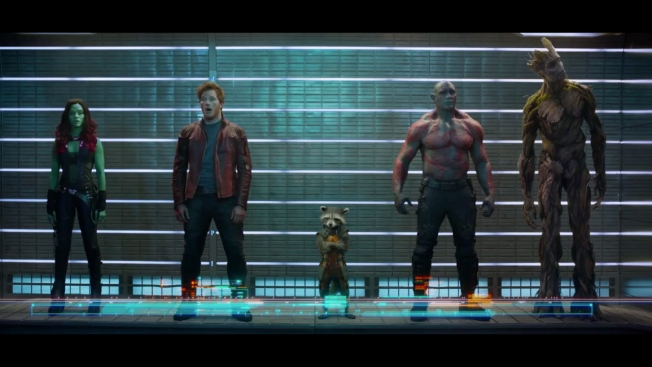 Slider, Brandon Carmichael and Special Guest Jerry Fuqua II discuss the summer Blockbuster (and officially the highest grossing film of 2014) Guardians of the Galaxy along with the larger Marvel Cinematic Universe live at Famous Faces & Funnies.
Don't forget to Like, +1 and Tweet!
"From Marvel, the studio that brought you the global blockbuster franchises of Iron Man, Thor, Captain America and The Avengers, comes a new team—the Guardians of the Galaxy. An action-packed, epic space adventure, Marvel's "Guardians of the Galaxy" expands the Marvel Cinematic Universe into the cosmos, where brash adventurer Peter Quill finds himself the object of an unrelenting bounty hunt after stealing a mysterious orb coveted by Ronan, a powerful villain with ambitions that threaten the entire universe. To evade the ever-persistent Ronan, Quill is forced into an uneasy truce with a quartet of disparate misfits—Rocket, a gun-toting raccoon, Groot, a tree-like humanoid, the deadly and enigmatic Gamora and the revenge-driven Drax the Destroyer. But when Quill discovers the true power of the orb and the menace it poses to the cosmos, he must do his best to rally his ragtag rivals for a last, desperate stand—with the galaxy's fate in the balance."
This is the blurb Marvel is using to lure people to their latest chapter in Phase 2 of the Marvel Cinematic Universe (MCU). But just who are the Guardians? Join us on August 10th, as Brandon, Dante and I explore the history of these characters with the help of Rick Shea, Fawad Siddiqui, and Jerry Fuqua II!
Join Us!
If you are in the area and would like to join us live you can! We'll be at:
Famous Faces and Funnies/Get Your Fun On
3030 West New Haven Ave
Melbourne, FL
For a map & directions Click Here!
Event Pages
Don't forget to Like, +1 and Tweet!
Glenn Close has joined the cast of Marvel Studios' Guardians of the Galaxy as a leading member of the intergalactic Nova Corps,Deadline reports. She'll star opposite Chris Pratt, Dave Bautista, Zoe Saldana, Michael Rooker, Ophelia Lovibond and Lee Pace in the James Gunn film.Close, whose big screen credits range from The World According to Garp to 101 Dalmations to Mars Attacks! is also well-known for recently headlining the television series "Damages" over five seasons.

Part of Marvel Studios "Phase Two", Guardians of the Galaxy features a script from Gunn, Chris McCoy and Nicole Periman. It follows an unlikely cast of characters who must team up in order to defeat a cosmic force of epic proportions.

(Photo Credit: Joseph Marzullo / WENN.com)
Don't forget to Like, +1 and Tweet!