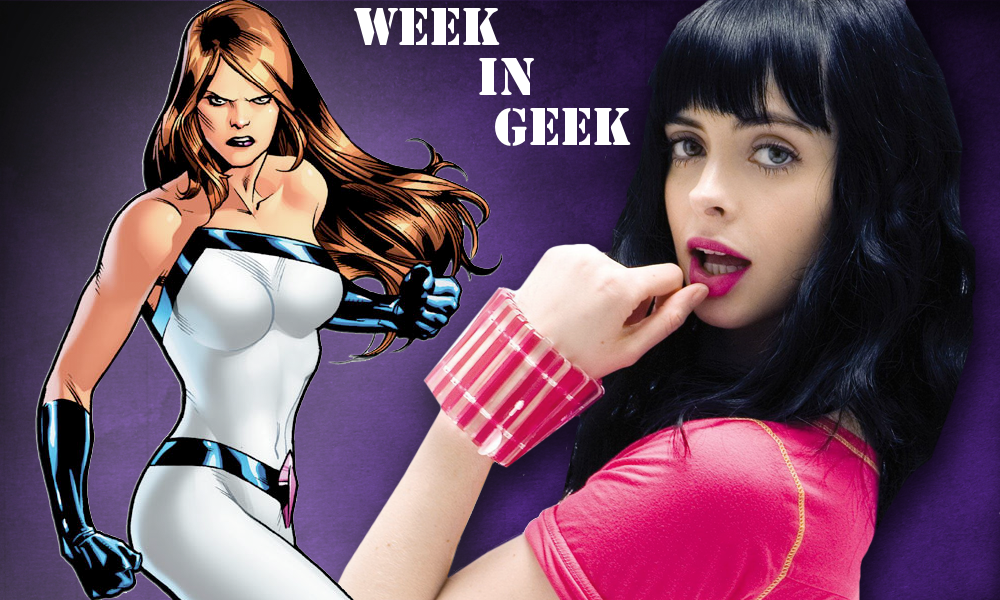 This is your week in geek re-cap for week ending December 14, 2014.

In Theaters This Week
Exodus: Gods and Kings 
Ridley Scott has thrown his hat into the Biblical epic ring with Exodus: Gods and Kings. Staring Christian Bale as Moses who fights alongside his brother Ramses (Joel Edgerton), to help defend Egypt. During battle, Moses saves Ramses life, causing Ramses to fear that his brother will one day be King because it fits with a prophecy handed down by one of King Seti's (played by John Tuturro) spiritualists. Soon after Seti's death, Moses, who is actually Jewish and not Egyptian, is banished. However, he becomes the leader of the Jewish people and leads a rebellion, with the help of a wrathful God, against the Egyptians. Rate PG-13, This version of Moses' story is apparently not friendly to the young ones.

Top Five 
Chris Rock plays A popular NYC comic who successfully makes the leap to movies, but gets caught off guard when confronted by a journalist (Rosario Dawson) who compels him to reevaluate his career choices. Top five also stars Kevin Hart, Tracy Morgan, Cedric the Entertainer, J.B. Smoove, and Jay Pharoah. As one would expect, this movie is Rated R for strong sexual content, nudity, crude humor.
Inherent Vice 
Paul Thomas Anderson adapts a celebrated detective novel in Inherent Vice. Joaquin Phoenix stars as a pot-smoking private eye at the tail end of the psychedelic '60s who investigates a kidnapping case involving his old flame Shasta Fay Hepworth (Katherine Waterston) and her missing sugar daddy Mickey Wolfmann (Eric Roberts), a powerful real-estate mogul. In the course of his investigation Doc butts heads with Lt. Det. Christian F. "Bigfoot" Bjornsen (Josh Brolin), a part-time actor with a palpable disdain for the free-love generation, and a reputation for committing civil-rights violations. Later, as clues to Wolfmann's disappearance begin to suggest a conspiracy involving the FBI and a mysterious underworld syndicate known as the Golden Fang, Doc seeks the help of his lawyer Sauncho Smilax, Esq. (Benecio Del Toro) and Deputy D.A. Penny Kimball (Reese Witherspoon). Meanwhile, Doc also agrees to search for Coy Harlingen (Owen Wilson), a reportedly deceased saxophone player who may not be as dead as rumors suggest, and who seems somehow tied to the ongoing Wolfmann investigation. Martin Short, Jena Malone, and Joanna Newsom also co-star. This movie is Rated R for drug use, sexual content, graphic nudity.
Top Five Weekend Box Office
For the first time in 4 weeks we have a new movie in the number one position with Exodus: Gods and Kings which brought in $24.5 Million Dollars
The Hunger Games Mockingjay Part 1 occupies the number two spot with a weekend take of $13.2 million Dollars, a 40% decrease from last weekend
Penguins of Madagascar holds solid at $7.3 Million
A newcomer to the top five is, well – Top Five bringing in 7.2 Million
Rounding out the top five in it's sixth week is Big Hero Six which brought in $6.1 Million dollars
Movie News
Jessica Jones Cast
With the barrage of projects Marvel has on it's plate, it was announced this week that Krysten Ritter will be playing the role of Jessica Jones on the upcoming series to be released on Netflix. Ritter is known for her work on Veronica Mars, Breaking Bad and most recently The Series Don't Trust the B in Apartment 23. There is no date available for when this will be available on Netflix.
Mad Max Trailer
The fourth entry in the series, Mad Max: Fury Road' revisits the post-apocalyptic trilogy featuring the anti-hero Mad Max played by Tom Hardy. Alongside Charlize Theron, Nicholas Hoult, Zoe Kravitz, Riley Keough, Rosie Huntington-Whiteley and Hugh Keays-Byrne, it follows the adventures of adventures of Max Rockatansky after the events of mad Max: Beyond Thunderdome. The trailer is filled with what appear to be practical effects, giving the film the gritty feeling of it's predecessors. Mad Max Fury Road hits theaters on May 15th, 2015.
Marvel and Al Pacino
Al Pacino has revealed that he has had meetings with Marvel Studios' Kevin Feige for a potential future collaboration. Pacino said, "Yeah, I would imagine that either there's something he feels is right for me, and if I feel —" before being interrupted by a ringing phone, which he jokes is Feige calling to prevent him from continuing. DO you want to see Pacino in the Marvel Cinematic universe? Who could he play? Let us know your thoughts in the comments below.
Star Wars 
Millions have watched the Star Wars: The Force Awakens trailer and now the character names have been revealed using retro-style trading cards. Director JJ Abrams teamed up with Lucasfilm President Kathleen Kennedy to create a set of trading cards that are a callback to the ones issued with "Star Wars" debut in 1977. The cards, which were unveiled by Entertainment Weekly, don't tell us much, which is by design. The Names were revealed to be Poe Dameron, Rey, Finn, BB-8 and Kylo Ren. What do you think of the new characters names? Love them? Hate them? Let us know in the comments.
Don't forget to Like, +1 and Tweet!